Today Google has announced Trips, which is a new travel app that acts as a travel guide & trip planner for anybody who is exploring a new place. Google Trips is a free app, available on iOS & Android, which will sort your hotel reservations & flight tickets, propose editorial guides to more than 200 cities, and make custom-made recommendations depending on your Google history. It works offline! Yes, it's true. Just download everything to your phone prior to leaving, including walking directions & maps— it spares you from the need to use an expensive international data plan.
Richard Holden, a vice president of product management said, Google Trips is the result of work of more than two years in improving Google's travel products. Few months ago, revamping its hotel and flight search features Google introduced a travel-planning feature inside mobile search, Destinations.
Google is introducing an app that it hopes will turn out to be an obvious way for travelers to plan their trip before their travel & get around town once they have arrived.
The app will be competing with offerings like TripIt, but Trips is not much leaned towards business travel as compared to TripIt, which is offering a $49-a-year premium service, which tracks your reward points & alerts you when a better seat is available on your flight. What Trips lacks in pro-travel features, it makes up for with helpful city guides that leverage a wide range of Google services.
It requires one to log in with a Google account. After signing in, Google will show you a list of your forthcoming & previously completed trips.
ORGANIZE YOUR FLIGHT, ACCOMODATION, AND RENTAL CAR INFORMATION
You get a vibrant list options to explore on tapping onto a future trip. Reservations sort out your hotel information, flights and any rental car reservations that you may have made. "Need to Know" has helpful info about getting from the airport to the center of the city, the local currency, and what has to be done in case of an emergency.
Now comes the heart of the app, which is "Things to Do". It builds customized itinerary depending on how long you will stay in town, comprising popular destinations, and anything that you've starred beforehand or saved on a Google service. You can pick a general itinerary like "72 hours in London" or drill deeper into guides comprising museums, shopping, or some other activities. And every guide can be modified to take in other destinations you would like to visit.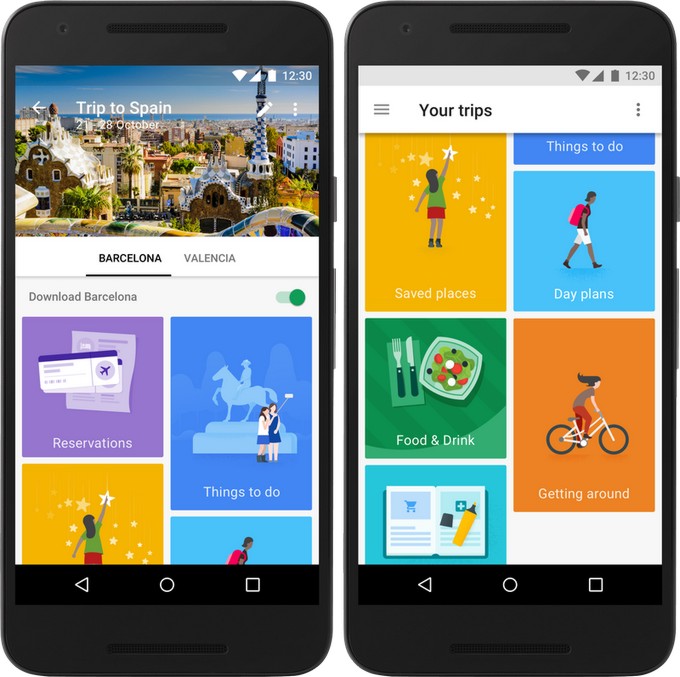 If you have your cellular connection active, Trips will show real-time details regarding which places are open closed or. Based on time of day & weather, it will also make adjustments like if it is rainy, the app will advise other indoor activities. And if you want to try I'm Feeling Lucky-style recommendation for your day, Google will suggest you a random highlight from the city on tapping the big red "magic wand" button.
If you are having privacy concerns with Google tracking your every trip around the world, Trips is probably not the app for you. But if you're relaxed with the trade-offs, you'll find this app an extremely useful travel companion. With time it may prove to be the most useful tool Google has launched after Google Photos.