Facebook-owned messaging application WhatsApp is trying different things with new Status feature that gives clients an option to share mind-setting pictures and videos overlaid with other custom elements, for example, emoji, with the content disappearing 24 hours after it's shared — so fundamentally a duplicate of Snapchat Stories.
The test feature was spotted on Friday by BGR India which says Status sharing is just as of now accessible to enlisted public beta testers of WhatsApp who are using a rooted Android or iOS gadget.
The main WhatsApp message screen, in the Android version of the beta has now a tab called 'Status', sitting between "Chats" on the left and "Calls" on the other side. Keeping in mind it's always been possible to set a status message in WhatsApp, which is visible when somebody sees your profile, the new Status tab does not replace that customary status message; rather it's an entire extra channel aimed for urging clients to share ephemeral and primarily visual content with their companions.
Likewise Snapchat Stories, once a user has snapped a photograph or recorded a video to share inside this channel they are offered a wide range of editing tools to improve the content — for example, by drawing on a colorful scribble or including and placing emoji. Status additionally gives users an option to add a caption to explain whatever they're posting. A send button shares the Status to the user's WhatsApp contacts.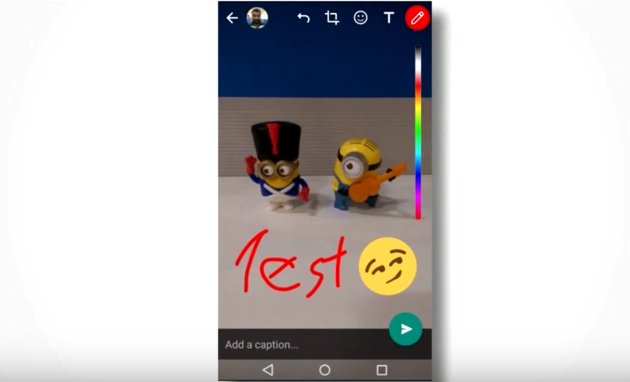 The beta application shares Status content for 24 hours, as indicated by BGR, for now there's no chance for users to manually remove a Status after they've shared it, nor set a longer (or shorter) life span for the post. Users can indicate which of their contacts can get Status updates— either by selecting manually or picking all and barring some (or to be sure selecting all contacts to spam everybody with all Status content).
Snapchat propelled its Stories ephemeral timeline three years back, and the sharing feature has demonstrated enormously popular — driving huge amounts of day by day video views for Snapchat (it reported 10 billion day by day video sees as of this April). So it's clear why Facebook is starting up its photocopiers.
Keeping in mind it's taken Zuck and co a while to react specifically to their opponent's ephemeral sharing format, they now appear to be determined to revealing a clone of the feature over their social board — with Facebook-owned Instagram propelling a close duplicate component, Instagram Stories, this summer; and a Stories clone called Messenger Day likewise being tried on Facebook Messenger this fall.
As of late Facebook has been prioritizing video content, as a feature of a fruitful push to drive video advertisement income. So getting WhatsApp's network of one billion+ active monthly users more acclimated to sharing visual content obviously feeds into that play. Particularly after the Facebook-owned company reported a colossal change to its privacy policy this summer — which infers it will begin permitting organizations to show advertisements to users.
That is a monstrous move for an organization that had, up to then, been firmly against having advertisements on its platform. Which just leaves the topic of how WhatsApp will coordinate advertisements into its platform without irritating clients. Thus enter the new Status channel, looking like precisely the kind of conduit where organizations on the WhatsApp platform could begin pushing out marketing missives to users who are associated with them.